petmir
Tanzania has also issued a warning for a tsunami on its coastline after Indonesian earthquakes today.
´´There will likely be huge waves in the Indian Ocean ... All fishermen and other vessels should keep off the sea.´´
– Agness Kijazi, Tanzania's Meteorological Agency director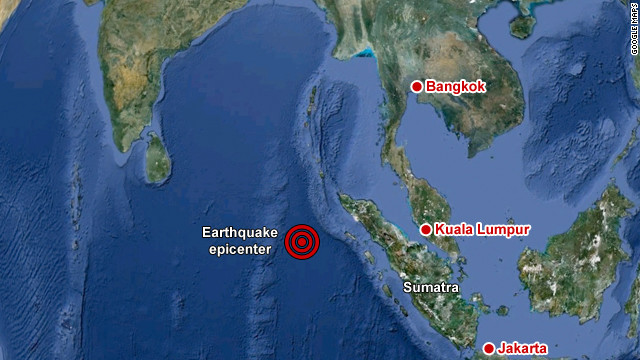 A massive earthquake struck off the coast of the Indonesian island of Sumatra Wednesday afternoon, triggering a tsunami alert for the Indian Ocean.
The quake struck about 434 kilometers (270 miles) southwest of Banda Aceh, the capital of Indonesia's Aceh province, and had a magnitude of 8.6, the U.S. Geological Survey said. It took place at a depth of 23 kilometers (14 miles).
A second large quake, with a magnitude of 8.2, occurred off the west coast of Sumatra about two hours later, the USGS said.
Gary Gibson from the Seismology Research Center in Melbourne, Australia, said the location of the second quake reduces the possibility of a tsunami.
There was also a series of smaller quakes off the west coast of northern Sumatra with magnitudes between 5.1 and 5.4.
There were no immediate reports of destruction or deaths Wednesday.
Indonesian President Susilo Bambang Yudhoyono said on local television that there were no reports of casualties or damage in Aceh.
The Pacific Tsunami Warning Center issued a tsunami watch for the entire Indian Ocean, and the Indonesian Meteorology, Climatology and Geophysics Agency said it had put up a tsunami warning as well.
Sea level readings indicate a tsunami was generated, the warning center said. "It may already have been destructive along some coasts."
Oh Lord Please Save us from this massive tragedy!!! Amen!!